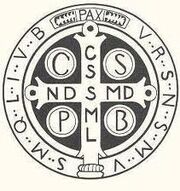 Being Catholic, the Archangelati often employs the use of symbols in its practice to better carry out its mission. An official coat of arms of the group is being developed as is an icon, both of which are hoped to be completed soon. A motto, most likely to be in Latin, is also in the process of development. Should you have an idea that you would like to propse, feel free to contact us.
The chi-rho symbol is used by most members because it is in that sign that Catholics were told we shall conquer.
Ad blocker interference detected!
Wikia is a free-to-use site that makes money from advertising. We have a modified experience for viewers using ad blockers

Wikia is not accessible if you've made further modifications. Remove the custom ad blocker rule(s) and the page will load as expected.