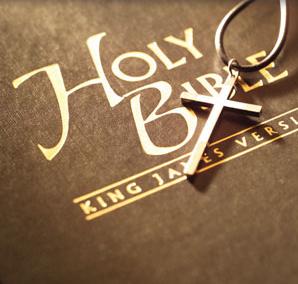 The five solas are the most basic and fundamental values held in common (for the most part) by Protestants. These points conflict with the teachings of Catholicism and the Bible itself.
Sola Scriptura
Edit
Sola Scriptura (Scripture alone) is the idea that Scripture should be Christian's only source of religion and faith and that all else is rejectionable. It places these words as the highest authority despite the Church being named the seniormost authority of God:
"If I am delayed, you will know how people ought to conduct themselves in God's household, which is the church of the living God, the pillar and foundation of the truth." 1 Timothy 3:15
In addition, many Protestants reject Catholicisms many traditions and other practics that are not necessarily found in the Bible. However:
"Therefore brothers, stand firm and hold fast to the traditions that you were taught, either by an oral statement or by a letter of ours." 2 Thessalonians 2:15
Clearly, the church is called the "foundation" and only church of God and traditions are acceptable to Christianity.
Sola Fide
Edit
Sola fide (faith alone) attests that faith in Christ is enough to save one from any condemnation possible and denounces Catholic teachings on the necessity of good works while living. This idea is clearly denounced by:
"In the same way, faith by itself, if it is not accompanied by action, is dead. But someone will say, "You have faith; I have deeds." Show me your faith without deeds, and I will show you my faith by what I do. You believe that there is one God. Good! Even the demons believe that--and shudder." James 2:17-19
Nevertheless, Protestants insist that faith alone can save a person, though according to their sola scriptura doctrine, this is clearly not the case.
Sola Gratia
Edit
Sola gratia (grace [of God] alone) doctrine teaches essenially the same thing as does sola fide and so can be refuted by the same verse as above. It says that salvation is given to us freely and solely of God's grace and mercy and does not have to be recompensed by us his creation. This teaching is absurd in that we are continually asked to be thankful of God's mercy and asked to show our love for him so that we can prove ourselves worthy of his gift to us. Christ Himself told us:
"Not everyone who says to me, 'Lord, Lord,' will enter the kingdom of heaven, but only he who does the will of my Father who is in heaven." Matthew 7:21
Solus Christus
Edit
Solus Christus (Christ alone) holds that there shoul exist no mediator between God and man and that people should exist free of such intervention. This especially applies to the concept of confession to a priest which Protestants readliy reject. They hold that a private mental confession with God is enough for one to be forgiven of all sins. However,
"Therefore confess your sins to each other and pray for each other so that you may be healed. The prayer of a righteous man is powerful and effective." James 5:16
Here, we see that a righteous peer is asked of us with whom we can confide our sins and by each other's prayers, we may then and only then be healed of our sins. Private confession is advised by catholics as well, but a physical and more humiliating act is asked of us to prove our true sorrow to God.
Soli Deo Gloria
Edit
Soli Deo gloria (glory to God alone) states that all glory and honor should be given to God and only God and to no other whatsoever. Protestants denounced the Catholic honor for the Church though according to the Mystici Corporis Christi doctrine, the Church is a part of Christ and so praise for the Catholic Church is praise for Christ. Furthermore, there are many examples of righteous people in the Bible giving honor to others as:
"When Elizabeth heard Mary's greeting, the baby leaped in her womb, and Elizabeth was filled with the Holy Spirit. In a loud voice she exclaimed: 'Blessed are you among women, and blessed is the child you will bear! But why am I so favored, that the mother of my Lord should come to me?'" Luke 1:41-43
Obviously, Mary is seen fit as to be given honor by another, as should any good person such as canonized saints in Catholicism.